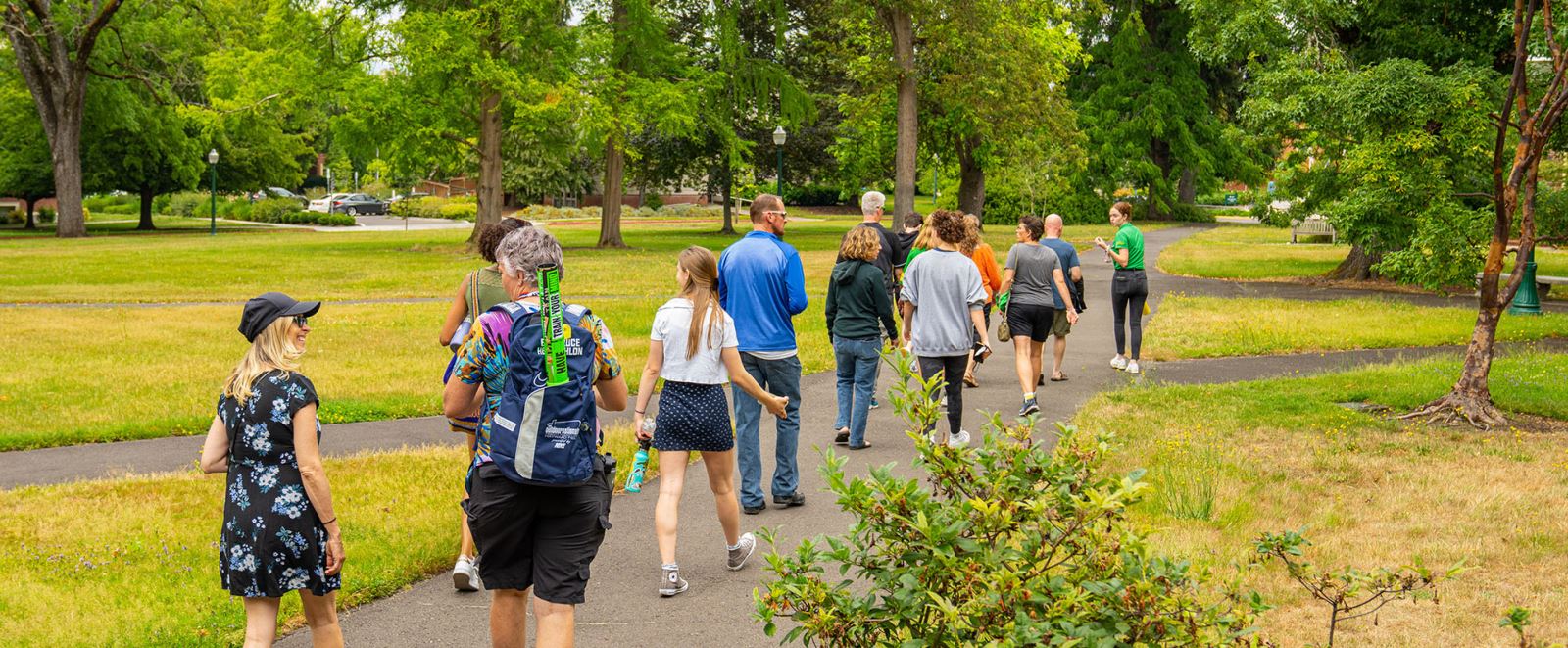 Duck Preview
Come see how Ducks soar at the University of Oregon!
You've been working your tail off, charting a course of learning for yourself. And now you're ready to expand that journey even further. Choosing the university that's right for you is about determining if a school fits—not just you—but your dreams, goals, and personality. Duck Preview will let you learn whether the UO's community of curious collaborators might just be your flock. Come breathe in the beautiful arboretum-like campus, take part in catalytic learning experiences led by dynamic faculty, and interact with current UO students. 
What is Duck Preview? Who should attend?
Duck Preview is a fall open house designed to give high school juniors, seniors, and transfer students a head start on the college search process.
At Duck Preview, you'll:
Take a campus tour led by an experienced UO student ambassador
Learn what a liberal arts education embedded in a top-tier research university can do for you
Explore your academic interests with outstanding UO faculty
Hear about dozens of ways to get involved in campus life beyond the classroom
Discover numerous services designed to support student success
Speak with admissions counselors, financial aid counselors, and housing representatives
What is on the agenda?
Duck Preview will include campus and housing tours, academic exploration sessions, catalytic learning sessions (active learning experiences led by UO faculty), and an information fair. Attendees will also hear from admissions, financial aid, and other departments. Representatives from each school/college will help attendees explore majors and minors.
Duck Preview sessions will take place between 10:00 a.m. and 4:00 p.m. A full schedule with exact session times and parking instructions will be emailed to registered guests a few days prior to the event. Guests can purchase lunch in any of our dining venues or retail eateries on campus.
What should I know about travel and safety?
Guests must provide written documentation of vaccination or a negative COVID-19 test within the prior three days in order to attend. Detailed instructions will be sent via email before the event.
Travel: Sessions often fill up quickly, so please wait to book travel until you've registered and received a confirmation email. We cannot move you into a full session to accommodate previously made travel plans. Visitors should follow CDC guidelines for travel during the pandemic.
Symptom Self-Checks: All UO visitors must complete a COVID-19 symptom self-check before arriving on campus. If you do not feel well or have recently been in contact with someone who contracted COVID-19, please cancel your registration and do not travel to campus. While UO is taking precautions to reduce the spread of COVID-19, we cannot eliminate the risk of exposure and infection on campus. If you develop symptoms or test positive for COVID-19 within 48 hours of visiting campus, please contact visit@uoregon.edu.
Face-Covering Regulation: Face coverings are required indoors in all UO facilities regardless of vaccination status. Face coverings can be removed when alone in a room or in an area specifically designated for eating. Face coverings must fully cover the nose and mouth. Masks are required outdoors when you cannot maintain physical distance from others outside your household. This policy is subject to change and up-to-date information can be found on our website.